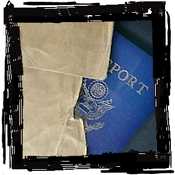 This list started when I couldn't remember what year I was where.
Paris 1980 (high school trip) Joe, Karl, & Sophia were there too.... (for all you grey ghosts!)
London Aug 1984 college summer with Ju-Ju. We both had student work Visas.
Boston 1986 to escape from Hyde Park for a year and the University of Chicago
London 1988 working for an Apple VAR called Albion, doing post sales support at Oxford Circus 1.5 years.
Paris 1989 a 7th floor apartment behind the church St. Germain on the left bank. Shake & Co. The cafe scene.
Greece/Turkey 1988 watch out for those curfew police. When returned I found a job at Boston University's computer store.
Greece/Yugoslavia/Morocco 1990 (Casablanca, where mom met dad met back in 1958) & Dubrovnik before the war.
London 1992 working for Abbott Mead Vickers BBDO for a year as a network consultant and then to
India 1992 on an academic tour: Hydrabad, Bombay, Bangalore, Ahmedabad
Belgium 1992 Bruges
Netherlands 1992 Utrecht, Amsterdam
Scotland/Wales 1992 the Edinbourough festival. When I returned from Europe I started working at Harvard Business School
New Mexico 1993 Santa Fe, Taos, Albuquerque
St. Martin (French Virgin Island) 1994 Orient Beach, 2 week vacation
Montreal 1994-1996 long weekends mainly, every month I was seeing a Professor at McGill now at UTexas Austin
Miami 1995 Dad's college reunion at the University of Miami.
Costa Rica 1994 & 1995 3 weeks vacation x 2 See the rain forest before it is gone.
Berlin, Germany April 1996 Grundewalde. I started working for MediaOne as a network engineer in 1996. I'm still there. Now we're called AT&T broadband.
San Francisco 1996 Finn! Beck! The red room....Levis' Christmas bash.
The Rhine Valley Oct 1996: Freiberg, Stuttgart, Heidleberg & Vienna, Austria then back to Berlin 100 mph in the slow lane.
Belize 1997 The forests
Peru 1998 (Dec 15- Jan 7th) Vortex at Machhu Picchu, the Amazon , Cusco, Nazca, the sacred valley of the Incas
Detroit/Ann Arbor (September 15-19) Network analysis
Hawai'i Oahu, Big Island, Maui, 1999 (Oct 15-31) A vacation with the 'rents.
Florida: Jacksonville & Pompano (Jan 2000) Richmond, VA (Feb 2000) A big snow storm.
Mexico 3/2000 a 3 week vacation in San Miguel de Allende, road trip to Mexico City Photos: Gallery
NYC (Aug 2001) SoHo with Matt for the Lubas Family reunion and Polka Party just before 9.11
Mexico 11-12/2001 a 4 week vacation to San Miguel de Allende / Puerto Vallarta to visit Finn. See Dottie Cupcake! Vortex at Santa Maria del Oro
Cross Country Road Trip On May 4th 2002 I left for a 3 month / 6000 mile road trip to see the USA:
Jersey Shore; Washington D.C; Maui (with Colleen); Peoria (to visit my folks); Unity Village, Kansas (investigating retreats), Atchison Forest of Friendship; Vesta, NE; Cope CO; Denver, CO (for a meeting with the Crimson Circle); Garden of the Gods; Taos; Santa Fe; Alburquerque, NM; Sho Low, AZ; Hopi Reservation; Sedona,AZ; the Grand Canyon; Las Vegas (the Luxor, of course); Lake Tahoe; Mt. Shasta, CA; Eugene, OR; Seattle, WA; and then.....
I found the place that I was seeking: Sebastopol, CA July 2002 Come Visit!
Back to visit Matt on Oct 19th 2002. Check out the Halloween Party.
Trip to Seattle for Shauna's 40th Birthday Party May 7th, 2004