Kunisada - 1786-1865
A master of primary color composition
---
size: oban
censor seal: Hama, Magome
date: rat 2
publisher: Izutsuya Shokichi
ref.: N13, N86, ritsu 101-0561,101-0562,101-0563
personal collection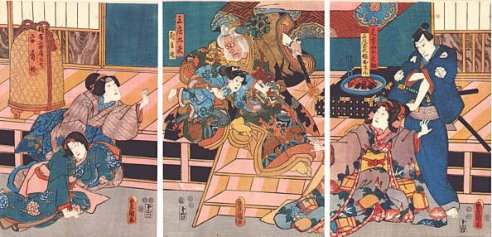 signature: Toyokuni ga
actors from l: Ichikawa Kuenzo, Iwai Kumesaburo III, unknown, Ichikawa Ebizo V, Arashi Rikan III, Ichikawa Danjuro VIII
roles: Anju hime, Gondo nijo Orachi, Tsushiomaru , Sansho Dayu , Sansho Dayu musume Osan, Motoyoshi Yonosuke
play: Mukashi banashi Sansho Dayu
During his lifetime Kunisada Utagawa was considered to be the best print designer by his contemporaries. He was more popular than Hiroshige, Hokusai or Kuniyoshi.
Student of Toyokuni I
Kunisada was born near Edo (today Tokyo) as the son of an affluent merchant with a ferry boat license. At the age of fifteen he joined the famous art school of Utagawa Toyokuni and took the name Kunisada.
Early Success
In 1807 the young artist produced his first illustrated book. And in 1808 his first actor prints were published. His fame grew fast. While other artists like Kuniyoshi or Hiroshige had to fight for recognition for years, he was successful from the beginning. He would become the most commercially successful of all woodblock printmakers ever. His early success may not have had a good influence on his personality. He had a reputation for arogance.
Many of the prints signed by Kunisada Utagawa bear the preceding Gototei, Kochoro or Ichiyosai to his artist name Kunisada, respectively Toyokuni after 1844. In 1844/45 the artist signed many of his prints with "Kunisada changing to Toyokuni". In 1845 he retired officially and called himself Shozo. But that did not mean that he stopped printmaking.
signature: Toyokuni ga

actor: Onoe Kikugoro IV

role: ?

size: oban
censor seal: aratame with date
date: 3ic/1860
publisher: ?
carver: ?
ref.: N82, NDL-74

personal collection
The name changes of ukiyo-e artists can be annoying and confusing for a newbie collector. The following list may help.
1807-1844: Gototei Kunisada

1833-1844: Kochoro Kunisada

from 1844: Toyokuni (III)

from 1845: Shozo
Kunisada designed a wide spectrum of traditional ukiyo-e subjects like kabuki themes, beautiful women, historical events and quite a few shunga prints. He made few landscapes.
In 1825 Toyokuni I had died. Later in 1844 Kunisada decided to take the name of his master and called himself Toyokuni. He is now known as Toyokuni III. The name of Toyokuni II was claimed by a lesser known and mediocre ukiyo-e artist, Toyoshige. He was the son-in-law of Toyokuni I and became the head of the Utagawa school after the death of his father-in-law. Toyoshige is now referred as Toyokuni II. Kunisada was outraged when Toyoshige was named head of the Utagawa school and not him.
---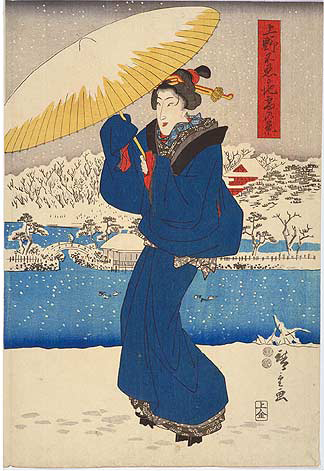 Snow at Shinobazu Pond, Ueno


Date:
Publisher:
Format: Sammai-tsuzuki (right panel of a triptych)
personal collection
Collaboration Works with Hiroshige and Kuniyoshi
Although there was some rivalry between Kunisada and Kuniyoshi, the two men designed and published a series of prints together. He also made some collaborative prints with Hiroshige I. In 1852 Kunisada designed the series Restaurants of Edo and in 1855 the series The Fifty-Three Stations from Two Brushes in collaboration with Hiroshige.
Kunisada also had a flourishing ukiyo-e school. The best of his students were Kunichika and Chikanobu who themselves became famous artists of the Japanese woodblock printmaking tradition.
Collecting Kunisada Prints: the agony and the ecstasy
---
While some of his prints are ranked among the best masterpieces of ukiyo-e,
many of his works are regarded as mediocre.
---
The number of Kunisada prints is estimated at over 20,000 designs. His prints belong to those a collector will find on the art market frequently. Prices range in the middle to lower area starting as low as US$100. While some of his prints are ranked among the best masterpieces of ukiyo-e, many of his works are regarded as mediocre. The prices on the art market reflect this view. And therefore some highly esteemed or unusual and rare subjects can easily surpass the thousand dollar limit.
There are the usual speculations about the degree of involvement of the master in producing these roughly 20,000 designs. Judging from the fact that ukiyo-e was considered more a craft than fine art, it can be assumed that many of the Kunisada prints were created by his students with a loose supervision of the master.
This was in no way different from European painting schools of great masters. Durer or Rubens managed their workshops with at least a dozen students who were actively involved in the creation of an art work. And what is so wrong with it? The idea that an art work is the result of a moment of divine intuition, is an invention of the art understanding of the twentieth century with its emphasis on creativity. The Japanese culture of the Edo period considered ukiyo-e as an artcraft at the best.
More about Kunisada
Buy Ukiyo-e prints via online auction
Utagawa Kunisada Project
Archive of Sold Prints
Signatures
Glossary